What Should I Do?
Does your child have a broken or chipped tooth? Dental emergencies like an injury to teeth or gum can be serious and must not be ignored. It may increase the risk of saving the tooth from permanent damage that is more extensive and expensive. 
You are not alone, parent! About 50% of children suffer from tooth injury during their childhood. Fortunately, these injuries are not typically life-threatening. However, we all get panicked and feel like we are the worst parent. 
Here is What You Can Do before being seen by your dentist:
Remain calm
Care instructions at home
Remain Calm
Panicking about your child's chipped or broken tooth will make it a whole lot worse. 
Instead, constantly check if the pain is worsening and immediately call your dental office to set an immediate appointment for your kid to be seen and treated. The sooner your child's dentist is able to attend, the better especially if the tooth broke into half, the tooth nerve is exposed or worse, the entire tooth has dislodged from the socket. 
The quicker you act, the more likely you are able to save your kiddo's tooth to avoid expensive dental treatment in the long run. 
Care Instruction At Home 
While waiting before heading out to your dental office for your kiddo's appointment, make sure you constantly check up on how the little one is getting along after the accident. Ensure there aren't any tooth fragments that are lodged in the lips, gums or tongue. 
And most importantly, ensure that he/she is stable and not losing consciousness as it may happen if the impact of the accident is hard.
What to Do If They Have a Chipped/Broken Tooth
If you notice that your kiddo is starting to bleed, apply a small towel to the tooth and bite onto it for approximately 10 to 15 minutes with slight pressure. 
If you are starting to realise that your kiddo's face is swelling up, wrap a couple of ice together in a towel and apply to the area. Otherwise, a yummy flavoured ice-cream would work too to alleviate the attention and pain.
What to Do If Their Tooth is Knocked Out
Severe accidents can cause the entire tooth structure to get dislodged from the socket. 
Stay calm and follow these steps within the first hour.
Retrieve the tooth 

Hold it by the crown (as attached) 

Rinse gently if it is dirty, otherwise, leave it be.




Do not scrub or remove the tissue fragment attached to the tooth. 

Try to insert the tooth in its correct direction and hold it till you make your way down to the dental office.




Do not force it in the socket.




If you are unable to do it, it's okay. Submerge the tooth in a cup of milk, otherwise, saltwater will do too.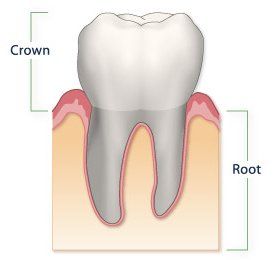 ---
At Pure NZ Dental,  our friendly and highly professional team are passionate about providing you with the dental care that you deserve!
Have a question or a concern? We're only an email or a call away!
Contact us at +65 96798770 via WhatsApp or call us at +65 64630257, or via email at info@purenzdental.com